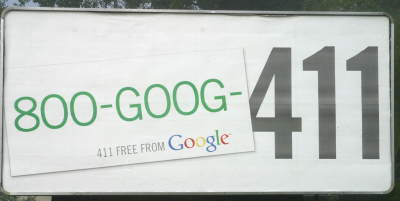 Last week's coverage of Google's Goog-411 billboard in Olean brought forth a number of other sightings of the billboards in San Francisco, Oakland and San Jose, Ca. & Tonawanda , Buffalo and Limestone (even smaller than Olean) NY.
While there may be others yet to appear and more billboards coming from Google, the very specific geographic clustering of the billboards in Western New York and the greater San Francisco area speak against Valleywag's speculation that the boards were surplus from a Google experiment in brokering billboards.

While Google may very well be interested in the billboard market, these billboards cannot be construed as proof of that. If they were in fact surplus stock, they would have been much more randomly placed around the nation.
The billboard itself was the epitome of effective use of a traditional medium to promote a new technology business. The ads were very easy to read at high speeds, simple, and to the point. They offered a compelling value (free) to the target market (cell phone users) with a strong call to action (toll-free number). This was all done with only 7 words, and only their recognizable logo was longer than 4 letters. The billboard provides a lesson that should be taken to heart by anyone doing billboards (and any small business doing signage, for that matter).
One concern I have about the billboard is that Google is over-promising and under-delivering. The ad leaves the impression with the consumer that the service is a complete 411 when it is in fact just business 411.
Google really has not advertised their other products broadly, and in that sense this billboard campaign is significant despite their limited geographic placements. The billboards were also reinforced with links in other (mostly cell phone facing) Google products, including their WAP cell phone portal, AdWords, & occasional ads in SMS text back system.
Certainly Google has time in any of their products to develop market share before they generate a revenue stream, but billboards are expensive and Goog-411 is at this point ad free. It will be interesting to see how soon Goog-411 is monetized and whether the campaign will expand beyond Western New York and the San Francisco area.
But why these two markets? My theory is that with very limited placements in very specific markets, Google will be able to test take up rates in large urban, mid market, and very rural markets. Has anyone spotted these billboards in other markets?
The take away on all this for me? Google is very serious about the voice-assisted directory assistance market. They have broken with their long-standing no marketing position in this test. They very much want to leverage their local dataset into other profitable areas and are intending on being a player. These ads are very much a direct challenge to Microsoft's TellMe and Jingle411.
The real questions for me are:
When will they add individual listings to the Goog-411 service?
When will they monetize the service?
How will they monetize the service without it being intrusive and simultaneously adding value to the interaction?
Mike Blumenthal is a student of life, political economy, and local search. He writes the blog Understanding Google Maps and Yahoo Local Search and is a partner in a small web design company in upstate NY.
---
Opinions expressed in this article are those of the guest author and not necessarily Search Engine Land. Staff authors are listed here.
---