Brad Geddes has spotted Google Local ads within Google Earth. We know Google has tested local ads within Google Maps in the past, more than just once. But I have never seen reports of Google Local ads within Google Earth, Google's desktop based mapping system.

A search in Google Maps on Utica, NY hotel brings up sponsored links at the bottom left, when clicked, up comes with an ad for Best Western or Red Roof Inn. If you click on those icons on the left of their name up comes a large pin. It looks like this (I heavily cropped the image to make it fit):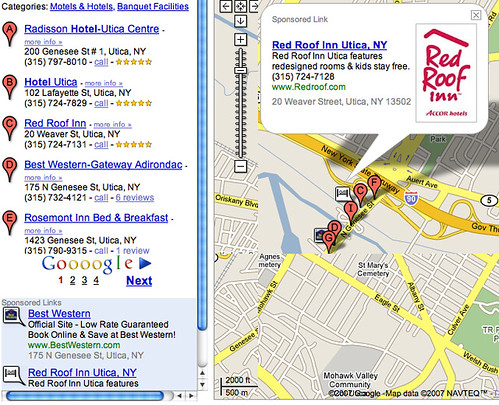 Now, I discussed the process of adding Google Maps icons to your local ads in detail in the past, if you are interested.
But the new part seems to be ads within Google Earth. A search on hotel, Utica, NY, brings up the same sponsored listings in Google Earth. Here is a screen capture:
So I decided to try a search on my company, based on my example above and presto, an sponsored listing in Google Earth for my company:
I wonder when exactly ads were first seen in Google Earth.
---